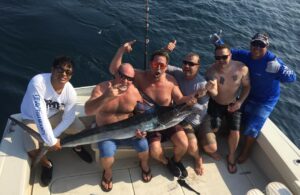 The Puerto Vallarta bay area summertime fishing . In the summertime there are many small game fish to be had right here in the bay at Puerto Vallarta. These are fantastic for four hour trips taking families out with the kids or just for folks that don't want to spend all day on a fishing boat. We will have the opportunity to see some manta rays ,the huge sea turtles and of course lots of dolphins on most days. When the water reaches 80° and there's a abundance of bait there's always the possibility that nice mahi-mahi good eating fish. The sailfish start coming inside the bay in the summertime as well. We do catch them on the 4 Hour and 6 hour trips with your shorter trips.
The bay is also known. For having incredible snorkeling places and some other beautiful as beaches to cruise to right here in the Beautiful Puerto Vallarta Bay. We offer half-day fishing trips along with snorkeling. If you are interested all you have to do is request Puerto Vallarta fishing / snorkeling trip.
The winter time fishing in Puerto Vallarta is a lot different than the summertime fishing here in the bay. There's lots of Spanish mackerel, the California Bonita which are really excellent eating those can be caught in the bay but usually when the winter rolls around everybody wants to be out fishing offshore because our offshore fishing cannot be beat in the winter time right here in Puerto Vallarta fishing. If you're looking for a trophy fish is a great time to be here as there's many sailfish and Marlin offshore.
If you decide to come here in the winter months you can expect to see the incredible humpback whales. Humpback whales here in Puerto Vallarta come late November and stay all the way to March. On many of our cruises we will do part fishing trip and then sightseeing with either some of the beaches or the incredible whale watching that we have here during the winter months.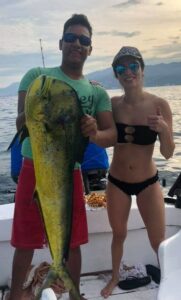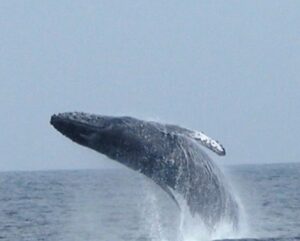 . El Morro summertime. El Morro famous place for fishing here in the summertime lots of marlin ,sailfish and some mahi-mahi. The summertime fishing at the El.Morro you're going to see really Blue Water almost every day with temperatures around 80 degrees. This means really good marlin fishing and sailfish. The can be roosterfish in this same area. When we start seeing the sardines the roosterfish are right behind them feeding around El Morro.
Winter time. El Morro in the winter time you're going to see temperatures drop down to around 75° or cooler the water maybe a little cooler which is really good for striped Marlin, Wahoo and some of the mahi-mahi the larger ones are there feeding. El Morro is a rock coming out of the water Reef that is about 25 miles from Puerto Vallarta Mexico. This is a fabulous place to fish in the winter time at 8 hours of fishing. Usually in the winter time out by El Morro you're going to see lots of whales that come here to breed along with the dolphins and the sea turtles and of course the spotted nose dolphin. Overall El Morro 8 hours of fishing can't be beat in the wintertime with perfect weather.
The Corbetena summertime. In the summertime means water temperatures will sometimes reach a little higher 80 deg. which is perfect for the offshore fishing. The deep sea fishing trips usually done 10 hours are sometimes 12 depending on the bite. This Is a great fishing spot to load up the tuna tubes. After successfully loading up the tuna tubes with 5 to 10 lb baits we troll them for huge Marlin and huge Tunas. You still be able to catch some amberjack out by this rock which is around 35 miles offshore. The Corbetena fishing for 10 hours is a for sure place and cannot be beat in the summertime.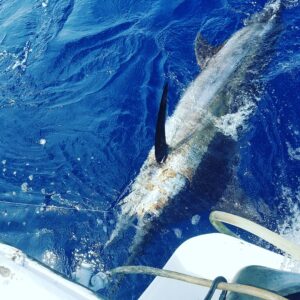 Winter time fishing at the El.Corbetena offers Wahoo fishing, striped marlin fishing, and mahi-mahi fishing along with other small game which is in abundance at this area offshore 35 miles. Water around the Corbetena is usually dark blue and holding around 75 degrees. It goes from several several thousand feet all the way up to 40 50 feet of water. This holds all kinds of bait around the rocks there and the reef. The bigger fish are just a couple of Miles offshore and are usually feeding there. There's a lot of peaks and valleys to fish out by the Corbetena for some really excellent big game fishing here in Puerto Vallarta Mexico.
El Faro
Summertime fishing at El Faro can be quite rewarding and exciting. Water temperature go up and down because the El Faro is very similar to Cabo San Lucas. This is where the current flow from north to south and brings in all kinds of pelagic fish. Ranging from Marlin sailfish, mahi -mahi and huge snappers. El Faro in the summertime with the warm Waters and a full moon this is the place where the sailfish seem to always hang out. If you're fishing for 10 hours at El Faro also known as a lighthouse is a great place the catch that trophy fish you could be looking for and have a great time fishing for the day.
El Faro
Winter time fishing at El Faro. The fishing at El Faro in Puerto Vallarta is really fantastic in the winter. Excellent chance at a really good striped Marlin ,sailfish, mahi- mahi, Spanish mackerel all kinds of small game. We generally like to fish over there around the full moon a few days before or a few days after the full moon. This is a great 10-hour trip as we usually run over to the Yelapa and then troll all the way out to El Faro. There's all kinds of fish to be caught and some of the most incredible beaches you'll ever see in Mexico. El Faro is one of our top five spots to fish in Puerto Vallarta ,Mexico.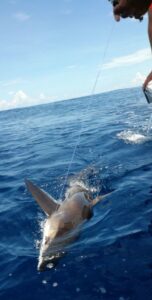 El Banco
El Banco fishing in Puerto Vallarta is right at the top of our top 5 places to fish right here in Puerto Vallarta. This is the place you want to go you're looking for the big marlin and Big Tuna. It's not uncommon to come away with several big tuna and Marlin in one day. This is the spot where you want to get the kite out or the helium balloons fishing with the big baits in the summertime. This particular fishing spot is on one of the fault lines that runs from South America all the way at the up to the United Stetes. There are several canyons that holds fish year-round. Can never go wrong fishing the blanco. These deep sea fishing trips are 12 hours or more of fishing and excitement.
El banco winter time
The banco in the winter months means black Marlin, blue marlin ,sailfish, wahoo and all kinds of Dorado action. It has to be one of our all-time favorite fishing places as the Bronco is a null underwater. It goes from several thousand feet up to 40 ft and holds bait and fish all year round. High speed lures, skipping bait and the Old Reliable huge bass drifting are some of the best ways to catch fish year. Kite fishing is usually off the charts at the El Banco and that's the reason is made the top 5 fishing places here in Puerto Vallarta.
The Maria Islands
Summertime
The Maria Island fishing in the summer time is not only at the top of our list a fishing places here in Puerto Vallarta. It is also one of the top 10 places to fish in the world. If you have a chance to come out here and fish this is the place you want to go. We do 2 and 1/2 day trips out here and anything you can imagine is there for the taking. Huge schools of tuna, schools of Marlon, sailfish, mahi mahi and Wahoo are not uncommon to find out here. Is also a great place for amberjack and they're really huge Fargo.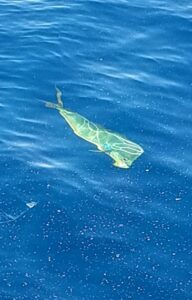 Maria's islands
Winter
If you're looking where one of the top places to fish in Mexico and the world Maria islands is where you need to head. And in the winter time you can catch just about anything there Marlin sailfish, tunas as there's a warm current that runs from almost South America all the way up to United States that keeps all kinds of pelagic fish there year-round. This has to be the number one top 5 fishing places in Puerto Vallarta. You're looking for action ,excitement and all kinds of fish this is the trip for you and your friends.
For the top 10 places to fish in Puerto Vallarta be sure and call for the latest conditions. I have a toll free number and can be reached at 800 430 6048.
Tight Lines
Capt. Pete and crew
to see what's happening in Nuevo Vallarta click here for latest report.