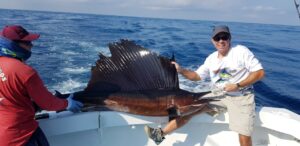 Deep sea fishing in Puerto Vallarta offers the best fishing on the Pacific side of Mexico. Our big game offshore fishing charters will put you on the fish and we include everything you need for a great day of fishing. The Puerto Vallarta fishing trips area produces great fishing all year round or Marlin, sailfish, tuna, and the great eating mahi-mahi. Send us an email or call our toll-free number for the latest information on Puerto Vallarta fishing trips. Here are a couple of our boats with the different sizes and what's included on Puerto Vallarta fishing charters
Vallarta offshore fishing trips and Puerto Vallarta bay fishing trips. There is a big difference in bay fishing and offshore fishing. The bay fishing is around 4 to 6 hrs. The offshore fishing is 8 hrs all the way up to overnight fishing trips.
Private fishing charters versus shared fishing charter. When you charter a boat for your group it's for you and friends. When you go on a fishing party you can be with up to 9 other fishermen. The best bet for fishing is to charter your on boat.
Our fishing charters have light tackle and fly fishing available on many of our fishing boats. Please take  a look at our snorkeling and fishing combo tour. There are also available fishing and whale watching charters. Voted number one for private vessels for just whale watching and doing snorkeling trips or cruises.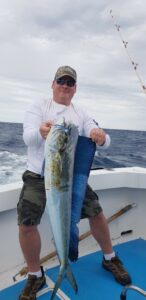 So how do you know if you are getting a good boat, good crew, and a fair price? First, do your research. Be sure and call to speak with a Licensed Capt. or owner. These are the people you want to speak with not just a sales person. I laugh every time I see we have the best price guarantee online. No one can beat our prices. We are the owners of the boats so how can someone beat our prices. Please check with us before booking any deep sea fishing charter in Puerto Vallarta. We are American owned and operated and I can answer any questions you might have before coming to beautiful Mexico to fish,snorkeling trips,whale watching or just a cruise around the bay.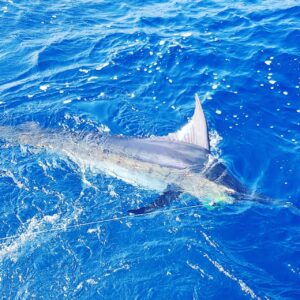 Deep sea fishing charters are easy to book with us. Check our website for the latest conditions here in Puerto Vallarta fishing charters. Please read info below before booking with any Puerto Vallarta fishing .
Be ready to ask questions. do they have toll free number to call and speak with you about your trip with family or friends? Ask for the name of the boat and Capt. if they don't know then look for another company.
I see several companies online stating THE BEST PRICES IN PUERTO VALLARTA. How can these Puerto Vallarta fishing charters companies offer better prices than the owner/operators? How would they make money? It's impossible to get better prices than we offer as we own our own boats.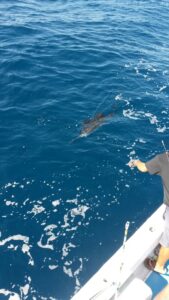 Safety is one of the biggest concerns with chartering a boat here in Puerto Vallarta for a deep sea fishing trip. We have been here for over 35 years and can report 0 accidents after doing a 1000 trips a year. Be sure you Capt. lets you know where safety gear is before you leave the dock.
What size of a boat should we rent ?? I get asked this question almost every day. Of course, the answer is always related to the size of your group. It could be a family, couples or just the guys for fun offshore fishing trip. If you are doing a bay trip 4 to 6 hrs. super panga is perfect for 4 people or family with some kids. If the kids are young and don't go out boating for a long period of time. I recommend 4 to 6 hrs. max. time on the water with young kids. Some kids grow up fishing like I did and of course, can take longer trips but the parents will know more than the Capt. or me when booking.
If you have 4 in your group and looking for comfort and more fishing lines then a medium size sports fisher is perfect for you. Like this one. Be sure and check the speed when renting a boat here in Puerto Vallarta fishing charters. You don't want to rent a boat that takes all day to get to the fishing grounds. This will cut into your fishing time. Ask before you rent.
If you are looking Puerto Vallarta fishing charters for a larger boat that can run 10 lines and teasers all at the same time rent one of our 40 ft. boats.
The other big factor when renting a charter boat is to make sure they have good gear. You do not want to go after the big marlin or sailfish and not have the proper gear. We use gold Penn and Avet 2 speeds up to 1000 meters of line. The line is changed on the reels several times a year.
Your best bet is renting a deep sea fishing boat here in Puerto Vallarta is done your homework first, ask questions and check prices.
If all else fails just give me a call. I let you know about any boat, Capt. or other charter company here in Puerto Vallarta. I've been here for over 34 years and love living here and helping our clients out.
Feel free to contact me at vallartafishing@hotmail.com or my toll-free number 800 4306048
Tight Lines and good luck on the fishing grounds,
Capt. Peter Vines
To see more about fishing Nuevo Vallarta, Punta Mita fishing or Fishing in Sayulita check here https://puertovallartas.com