The fishing remains strong here in Puerto Vallarta fishing.
Capt. Pete has had many requests for the ceviche recipe we make on the boat DOS AMIGOS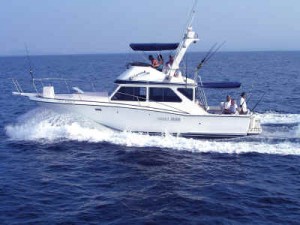 Here's what ya need to get started for 6 people :
1. 1 lb. of white fish: here are a few that can be used – dorados ( AKA mahi- mahi)  red snapper, Spanish mackerel,halibut, flounder, or a combination of 1/2 lb white fish and 1/2 lb of shrimp.
2. 15 limes or  lemons.  I always use limes
3.  cilantro          use the whole bunch ( chopped fine )
4. 6 tomatos ( med) deseeded
5.  1 red bell pepper, 1 green bell pepper, 1 yellow bell pepper, 1 orange bell pepper  chopped/deseeded
6. 1 large onion  white, red, yellow what ever flavor you like
7. 1  large carrot  grated
8. fresh ground pepper
9. fresh ground sea salt
10. Maggi cocktail sauce or soy sauce
11. olive oil
12. couple of peppers your choice  chopped depending on hot you like it !!! JALAPENOS ARE GOOD
13. tostados
14. avocados 2 large
15. 2 large plastic bowls with tops
16. large cutting board
17. couple of beers for drinking while you make the ceviche
step 1 chop fish or shrimp in small pieces nothing larger that 1/4 inch
this will help the limes cook the fish/shrimp faster
step 2 put in plastic bowl and squeeze  limes over all the fish, just enough to cover the fish/shrimp
step 3 put in refrigerator , then should be stirred several times over the next 45 min while preparing
the vegetables
step 4.  chop all the vegetables into 1/4 inch pieces
step 5  put all vegetables into the second plastic bowl
step 6 check your fish that has been in the refrigerator for 45 min, by now the fish/shrimp should have changed color, they should be a white color now.  If not leave them in the refrigerator a few more min.  ( don't use to many limes- this will make your ceviche taste like limes )
step 7 mix the shrimp/fish and vegetables in large bowl , add fresh ground salt and fresh ground pepper
STEP 8  put in 2 table spoons of soy sauce or maggi cocktail sauce and mix
step 9  you can add 2 table spoons of olive oil as well ( optional )
step 10 put in refrigerator for 15 min and serve on tostado with wedge of avocado
step 11 add your favorite store bought hot sauce on top of tostado and serve
This is the one we like to make on the boat DOS AMIGOS for our clients
ENJOY
CAPT. PETER VINES