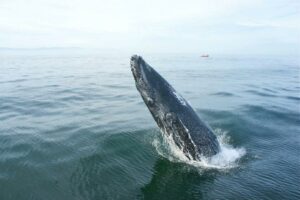 Puerto Vallarta whale watching is fantastic from the month of December all the way up to late March.  All of our whale watching trips in Puerto Vallarta you are likely to encounter humpback whales, orcas as know as killer whales, bottle nose dolphin, common dolphins, sea lions, giant sea turtles, many species of sea birds and other marine animals right here in beautiful Puerto Vallarta they call home for many months of the year.
We are the  top rated whale watching company in Puerto Vallarta specializing in small groups. If you're looking for something different and whale watching is on your bucket list then come on one of our Coast Guard approved vessels. We normally take 4 all the way up to 40 passengers. We can also handle large groups upon request.
Whale watching in Puerto Vallarta is hundred percent guaranteed and we go out for a way to make sure every customer has incredible photographic opportunities and up close and personal with the whales. All of our boats and all of our guides are certified.  They  go the extra mile to make sure we exceed your expectations on each whale watching excursion.
The best month to see the whales here in Puerto Vallarta are December all the way up to March. A lot of this depends upon the water temperature and how soon the whales are migrating here. The humpback whales spend their summers in Alaska and then migrate down to beautiful Puerto Vallarta. The humpback whales come here to breed and have their calves.  Imagine seeing a baby humpback whale up close that is 10 feet long and weighs 3 tons from birth. A little know fact is the gestation for a whale is 10 months.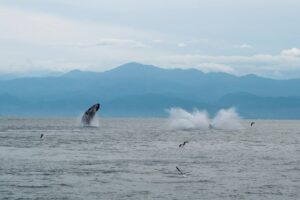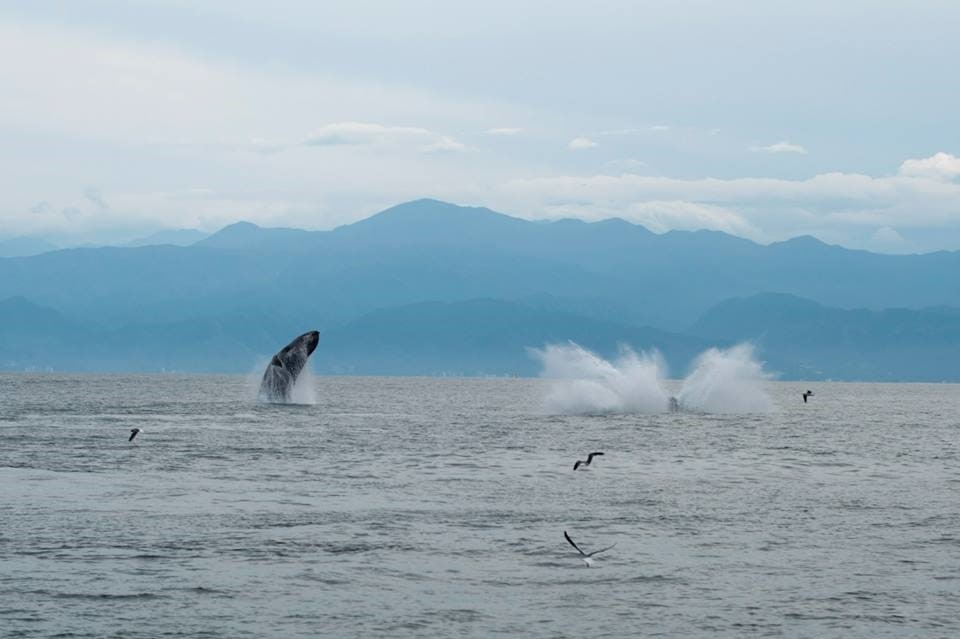 We often get the question where the best  place to see the whales and the answer is actuality on the water seeing them up close.. So if you're looking for an exhilarating day of whale watching come out with us on one of our boats and you will not be disappointed. This will definitely be the highlight of your vacation.
To contact us please call our toll-free number 800 430 6048 or send us an email at vallartafishing@hotmail.com
Capt. Pete aka the Puerto Vallarta whale whisper.  WW for short
Puerto Vallarta whale watching is great this year.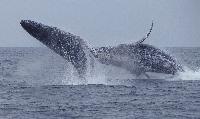 Whale Watching Puerto Vallarta
We have the best whale watching.

Humpback Whales
The Bay of Banderas and the islands are famous as the breeding ground of the Humpback and Orca Whales. Each year hundreds of these very beautiful whales journey to our bay to mate and then give birth to their calves. Watching the whales dance on the water and perform their rituals in quite an experience, with whales approaching our boats almost daily from November through April.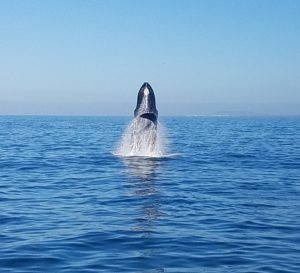 Sailing Unlimited offers daily "Whale Watching" excursions on both sail and power boats from November through April each year. It is quite common to see a Mother & Baby swimming together or a male on the surface singing to court a female. These humpback whales average about 45′ in length and weigh between 15 – 20  tons (wet of course). Your experienced English Speaking crew knows just where to go so you can view these gorgeous mammals and get tons
of great photos for your scrapbook.
Contact us via our contact page  for rates and availability
800 4306048 toll-free
Your trip includes:
Beverages ~ Beer ~ Soft Drinks ~Coffee
Continental breakfast
Comfortable accommodations
Fresh snacks made at sea
Lunch
hydrophones for listening to whales' songs underwater
Great photo opportunities
small groups
personal service
Sunbathing
Fully licensed and insured boats
We offer small and large boats for bigger groups
Sailing Unlimited is owned and operated by Peter with 35 years experience in Puerto Vallarta. Take advantage of our experience, bring the whole family or tour group and enjoy the whales and other marine life here in Puerto Vallarta. The only whale watching cruise that offers a money back guarantee!  We can take two to two hundred people at a time here in Puerto Vallarta.
For more information:
Punta Mita: Ph 01322 22-10920
Puerto Vallarta: Ph 013-221-0920 or 044-322-2946420
To see more about fishing Nuevo Vallarta, Punta Mita fishing or Fishing in Sayulita check here http://www.puertovallartas.com