Puerto Vallarta is known around the world as a vacation hotspot, it's incredibly hot beaches and deep-sea fishing. This is one of the main reasons we see so locals and visitors taking to the water and fantastic beaches all year round. We are known for incredible beaches, nightlife, shopping and where the friendliest people in the world.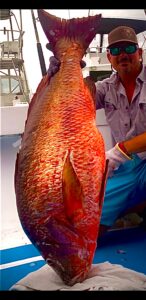 We are located on Mexico's gold coast, this sun-soaked city is perfectly positioned right along the migratory route of world-famous pelagic fish. It's also home to the best bay fishing in the world. Puerto Vallarta fishing is truly diverse, so no matter your angling knowledge, you'll find your perfect fishing adventure! at the right prices
With so many hotspots to fish like the bay, El Morro, Corbetena, El Banco, and the islands it can be difficult to choose the perfect fishing adventure. Not to worry we have over 50 professionals to help you pick the perfect fishing trip custom fit for you and family. Here below, we've highlighted our favorite species in the area, as well as where and how you can cast a line here. Read on and get ready to discover Puerto Vallarta and the treasures that lie beneath its waters!
Top Places to fish in Puerto Vallarta
The bay has to be one of the number one places to fish here in Puerto Vallarta.  The first most bay trips that can be done is 4 hrs.  This is a big draw as it's close to shore and very inexpensive.  There are a large number of boats that we use on our bay fishing trips.  The 28 ft super panga is perfect for this kind of fishing. With a four-person max and so many different types of species to fish for you have the time of your like on this half-day fishing trip in Puerto Vallarta.
El Morro has so many fishing options it's hard to name them all here. This 8 hr deep sea fishing adventure is for those of us that enough being on the open the water while having a chance to land marlin, sailfish, mahi-mahi, and tuna.  This is a short run from the marina and you can catch just about any species of pelagic you can imagine.
The Cortbetena has a wealth of trophy fish out there waiting almost all year round. This is the go-to fishing ground when you are looking for larger fish or that bucket list fish.  For most anglers, this is a once in a lifetime fishing opportunity. The tuna are thick here on this offshore fish trip. Some days marlin, sailfish, and mahi-mahi hit the bait all days long.  The Cortbetena is a 10 to 12 hr. trip of a lifetime. Please plan in advance as space on these trips is limited.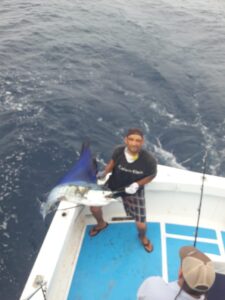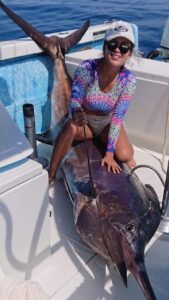 Banco fishing has to be one of the best angling experiences in the world. This is the hot spot where most of the trophy fish come from.  It's a rare day when you don't catch the fish of your dreams art this fishing location. This 12 to 14 hr. the trip is the best of the best most days.  The last two fishing adventures can't be beaten for catching the fish you always wanted.  This is the bucket list fish-catching place.  If I could I would fish here every day.  Be sure and check for boat availability before coming down as this is the most sought after the trip we off here in Puerto Vallarta Mexico.
From billfish to bottom fishing Puerto Vallarta truly has it all when it comes to deep-sea fishing.  We are here to help you and family pick the perfect fishing trip wither it's offshore or inshore.  We go the extra mile to ensure you have the trip of a lifetime.  I look forward to seeing everyone out there on the water having fun and catching fish.
Capt. Pete and crews
if you have any questions about fishing in Puerto Vallarta Mexico
Puerto Vallarta fishing has more than 350 days a year of sunshine and fun, incredibly friendly people, many world-class restaurants, incredible hotels, all kinds of activities, and some of the most incredible fishing on the planet. So why not think about fishing here in Mexico on your next vacation?
We offer inshore fishing, freshwater fishing, reef fishing, inshore fishing, offshore fishing, and five of the greatest places to fish in the world. If you're looking for a vacation destination Puerto Vallarta Mexico has it all. The thing that separates us from any other place is the friendly people that bring it all together. Just like our captains, mates, and crews they strive to make your vacation an unforgettable one. We have so many selections of fish like marlin, sailfish, mahi-mahi, wahoo, red snapper, roosterfish, tuna, and all kinds of bay fishing. The inshore can be done in 4 hours and the offshore sportfishing trips can be 8 hrs. up to a couple of days.  Puerto Vallarta fishing truly has it all.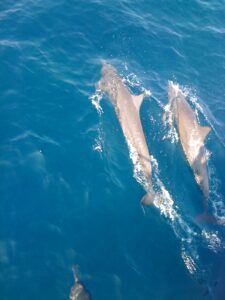 We just don't offer fishing trips. We can customize each fishing excursion to your particular needs. Our top-notch staff takes out novices and the hard-core fishing all the time and will help you pick the perfect boat.  We also have one of the largest fleets in Puerto Vallarta. Our boats can handle from 2 to up to 200 people. If you let us know when you're becoming down, how many people are in your group, and what you like to fish for we'll make sure that you're on a proper vessel and at the right time to fish here in beautiful Puerto Vallarta Mexico.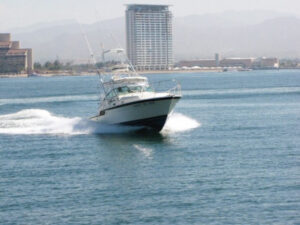 We also offer some of the most competitive rates here in Mexico. We are the owners' operators of the boats and our prices cannot be beaten by any company. Skip the middleman in the book directly with the owner or captain. We Are One Click away or a toll-free call 800 4306048 away from making you're fishing journey one of the best you've ever taken. To see the kind of service we offer please take a look at our TripAdvisor comments.
You may have some questions about fishing here in Puerto Vallarta or the surrounding areas like Punta Mita, Sayulita, La Cruz, Nuevo Vallarta and Bucerias. Please take a look at our questions and answers page. Here you'll find info about fishing here and all the top questions asked about these areas.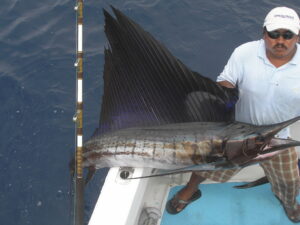 We also offer a report on Facebook about the fishing conditions and pictures of some of the latest catches that we've had. On Facebook, you'll see comments and what to expect to catch before coming down to Puerto Vallarta.
How can we offer the best prices in Mexico? It's simple where the owner /operators of the fishing vessels. We don't have to pay any middleman as you'll see in some of the other companies. I highly suggest you do your homework before coming down in speaking with a captain or an owner before making the decision on who you'd like to fish with. I invite everyone to give us a call or send us a quick email vallartafishing@hotmail.com  on any questions pertaining to our deep sea fishing trips, snorkeling, Bay cruises, whale watching, or just a fun day out on the bay with Friends.
Look forward to hearing from everyone and seeing you out on the water here and beautiful Puerto Vallarta where the friendliest people in the world live.
Captain Pete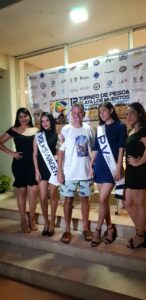 Puerto Vallarta fishing offers incredible fishing all year long. We are now fishing in the month of April which is considered one of our very best months for fishing all types of species. If you are looking for pelagic fish this is the best month to fish Puerto Vallarta.
You're looking for Marlin ,sailfish ,mahi- mahi ,and tuna you picked the right time to come down to Puerto Vallarta. For the last couple of weeks we've had several deep sea fishing tournaments here in Puerto Vallarta. One of the largest tournaments held here  is the last Los Muertos tournament which we took second place in out of 110 boats for the sailfish division.
The sailfish action has been good inshore and offshore. If you didn't know the sailfish is one of the fastest fish in the ocean and is one of the most sought-after fish that we catch for here in Puerto Vallarta. A sailfish can reach speeds of 75 mile per hour.  The Fabulous eating mahi-mahi also known as Dorado has been abundant offshore and inshore. The larger mahi mahi coming from offshore fishing where the rod bending action has been off the charts.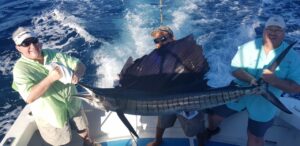 The Marlin and tuna action incredible and Puerto Vallarta fishing. The best action for the Marlin has been at the Corbetena and the El Banco. When fishing for marlin it's not uncommon for us to see boiling  schools of tuna. The water  temperatures are staying around 76 to 78 degrees. One of the factors for a lot of people overlook is the water Clarity and the water temperature. For most of the novices they don't realize tuna, sailfish and Marlin have water temperatures that they like to swim in just as when we take a shower or a bath. So if you're going offshore and spending big money be sure you're out with a good company that knows the water temperatures and where the blue water are before they leave the dock. I use fish track for water temps.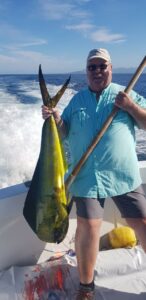 The Puerto Vallarta fishing in April for inshore and offshore has just been fantastic to say the least. So if you're coming down in November or December just shoot us a quick email or call us on our toll-free number for our day today fishing conditions. We are one of the only company in Puerto Vallarta that offer an up-to-date fishing report. I can also tell you the best day to fish by looking at the tide schedule .  Why would you want to take a look at a fishing report from last week or last month when you can get up to the minute conditions by just calling us toll-free.   800 430 6048
for prices click here or up to the hour fishing report
Hope to see everybody out there on the water here and beautiful Puerto Vallarta where are the friendliest people in the world live.
Capt. Pete and crews
for any questions about fishing in Puerto Vallarta please see this very informative page
Puerto Vallarta fishing
Puerto Vallarta fishing had some amazing fishing for September. October is getting off to even better start for fishing in Puerto Vallarta. Last September we were catching all kinds of pelagic fish inside the bay and offshore. There was a really good mix of all kinds of fish. Most of the fish we're biting live bait and high speed lure and skip bait trolled fast. Live bait action was really good inshore and offshore. We still had a few light rains which really turned the fishing on. The last couple of rains served to give us some really good fishing lines to work out there where the water was a definite color change in temperature break this produced a lot of fish like sailfish, marlin and dorados.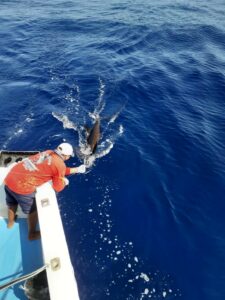 The offshore fishing was fantastic out by the El Morrow catching a lot of Dorado, sailfish and some Marlin. Another hot spot Corbetena which in October always produces a lot of marlin , sailfish and mahi mahi. We work some of the thermic lines and this seemed produced fish everyday. If you're fishing off shore in October here in Puerto Vallarta fishing it's a great time to be here with lots of fish.
The hottest fishing inshore was catching some of the roosterfish and yellowtail. Mixed in with these guys were some nice snapper caught on Rapala lures. The hottest bite for Puerto Vallarta fishing offshore what is the fast toll skipping baits for Marlin, Sailfish in Dorado. If you're fishing in Puerto Vallarta for October be ready for lots of action and be sure and bring plenty of live bait.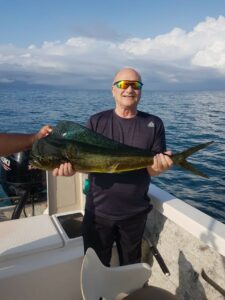 So if it's going to be inshore fishing you'll be having some fun and of course October here in Puerto Vallarta fishing always has great action offshore. Looking forward to seeing everyone out there.
Captain Pete and Crews
p.s. be sure to book before coming down
Summer time fishing Puerto Vallarta
Puerto Vallarta fishing is really heating up just like the weather. This summer we've been having some really great fishing inside the bay on our 28 foot super pangas and our medium sized  Sportfishing boats. Over on the south side of the Bay some of the roosterfish are showing up and pretty good numbers. As you can tell from the photos some of them have been quite large. There's also been some of the average size Dorado showing up here inside the bay on our short day fishing trips. This is perfect for summertime vacation as we have a lot of families coming down to fish. There's been really good action in the middle of the bay as well along with the north side catching all kinds of good eating game fish and the occasional sailfish. If you're looking for family fun or a fun day fishing right here in the bay we've got you covered on one of our 28 foot super pangas  all the way up to our big 40 foot sport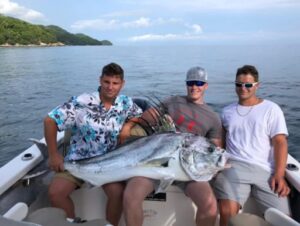 fisher that can handle up large groups
The offshore fishing that's really kicked into high gear starting to see some of the bigger Dorado showing up just offshore. These trips are best done on one of our larger boat and require an 8 hour trip. We're starting to see a few less striped Marlin but some of the bigger Blue Marlin and black marlin or showing up offshore. These trips are best done offshore working some of the thermic lines with the water temperature being around 80 degrees. If we can get that dark blue water around 80 deg. and find the Tunas and dolphin working it's holy moly time as the fishing will be incredible offshore here in Puerto Vallarta fishing. We like to get out there early and do some high-speed lures. And then when the tide starts the change switch over to our large live baits slow trolling for the summertime fishing right here in beautiful Puerto Vallarta. When we get these perfect conditions it's almost guaranteed Big Tuna and big marlin on every trip. We also see the large mahi-mahi providing some Rod bending action offshore and I mean some of the big ones.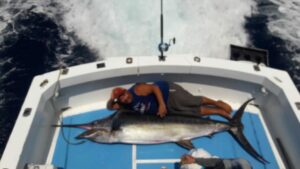 So if you're looking for some fast action Rod bending exhilarating fishing here and Puerto Vallarta fishing summertime is when you want to be here. Great weather 80-degree water lots of sunshine and incredible fishing. What's not to like about this.
Come down and join us on one of our charters. Be sure and give us a call on our toll-free number for the latest conditions before coming down and to make sure that we have space available for you and your family or group. See you out there on the water
Captain Pete and Crews
toll free 800 430 6048
see what others think about our trips https://www.tripadvisor.com/Attraction_Review-g150793-d2294229-Reviews-Puerto_Vallarta_Fishing_Capt_Pete-Puerto_Vallarta.html
Looking for a Puerto Vallarta fishing charter
Puerto Vallarta fishing is one of the most exciting watersports that we offer here in Mexico. If you're coming to Puerto Vallarta to fish your first need to decide on which boat that you should take. The answer to this question is going to be the size of the boat and the number of the people that you have in your group. If you have two to four people one of our 28 foot super panga would be perfect. These are great for the Bay fishing. We also offer 32 foot  Sports Fishers that are up to six people and are great for Bay fishing or even going offshore.  We have 40-foot sports Fishers that are great for Bay fishing for the larger groups or for folks that want to go offshore for the big game hunting. These boats are perfect for 8 people. So I, as you can see what you need to decide on first before looking for Puerto Vallarta fishing, is the size of the boat that you need to rent. Whether it's from two people all the way up to 500 for a large corporate group we can get you out for a fun day.
After you know which one of our boats that you'd like to Charter here in Puerto Vallarta fishing we need to decide what would like to fish for. I get this question all the time. What are we going to catch and where are we going to fish. ?  This all depends on what time of the year that you come down for your vacation here in Mexico. Most of our clients like to come down in the winter months of November, December, January, February, March which can offer some really exciting fishing. During the winter months, we have some great fishing for sailfish mahi-mahi Marlin and much other game fish that we fish for here in Puerto Vallarta fishing. Most of these trips are for 8 hours as the pelagic fish will be roaming offshore and we need eight hours to get out where they're feeding.  The bay here in Puerto Vallarta is one of the largest in the world.  The fall fishing is also really ridiculous good here offshore.   There are some days even the tuna are right here inside the bay. These kinds of days make for incredible during these months.  We have the yellowtail, mahi-mahi, Spanish mackerel that are feeding, roosterfish and even some of the Snapper.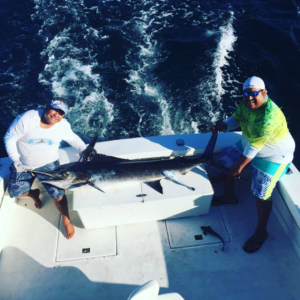 Puerto Vallarta fishing summer months are also really great for fishing inside the bay.  I have a lot of the same action as the fall fishing but usually a lot more fish. If you're coming to Puerto Vallarta fishing in the summer time and want to get out for offshore fishing . When fishing offshore we are looking for the big game fish. You are likely to catch blue marlin black marlin, sailfish, and mahi-mahi the fishing is incredible this time of the year for fishing offshore.
Now that you've decided to try Puerto Vallarta fishing how do you find a good boat?  Most people start on the internet.  You can look around and then of course look at some of the reviews. Best bet for finding a good charter boat is I would say look at the reviews and then their website.  Facebook is where people that are posting pictures every day on Facebook or catching the fish. The best way for your family or friends is to call and speak with the owner or Captain.  Make sure they understand what you want to fish for, the right boat and last but not least a good crew. If you do this you will surely find the best fishing boat for you and family/friends. Here at Puerto Vallarta fishing, we offer a toll-free number 800 430 6048 to call us before you coming down.  You can speak with one of our Representatives., Captains or owners. Please send us an email or call our toll-free phone number before coming down. Just to make sure we can get you out on the right boat at the right time for a fun day here in Puerto Vallarta fishing.
Capt. Pete
Puerto Vallarta fishing
for more info please see: https://travelvallarta.com/fishing-questions-puerto-vallarta/