Puerto Vallarta fishing report August 2018 is as hot as it gets. The fishing is up over the bay and incredible offshore. This last month in Puerto Vallarta Mexico saw some of the most fantastic fishing days of the summer. The August fishing report in Puerto Vallarta and the bay area like Nuevo Vallarta, Punya Mita and Sayulita will hold much of the same fishing action. The deep sea fishing had super days and some so-so days fishing but still landed much great fish. The best of the best top-notch fishing crews came to in fish the Corbetena and close by. There were several big tuna and many marlin feeding/ schooling there along with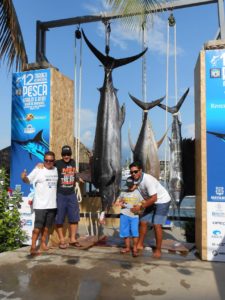 El Banco. The wat to fish Puerto Vallarta fishing technique was the slow troll with huge bonitas. These large fishing baits which are 5 to 10 lbs. bait and catch more large tuna and marlin than any other way of fishing for last 32  years we have fished here in Puerto Vallarta fishing with our boats which is known as the friendliest city in the world. So many other fish caught by trolling with mullet fast and lures/jigging  around the Corbetena and El Banco just to mention a few. If you are going to Puerto Vallarta want to catch big fish August is one of the very best months to catch tuna, marlin, and sailfish.  Check with me before coming down to Mexico so we can f the figure out the tides for the daate you will be here and our sercect weapon Terrafin satellite pictures we get every  daily. This is a  service that I pay for to let our crews know where the fish are biting, water temp. and where blue water is located.
The July bay fishing was off the charts this last month.  August is going to be better as more bait which happens to love is showing up in the beautiful Puerto Vallarta bay and deep sea fishing  I mentioned earlier in this Puerto Vallarta fishing report for August.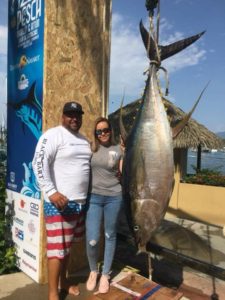 Some days we ran short of bait when hooking up over thirty big fish for the day. The yellowtail, roosterfish, mahi mahi and many other incredible  fish are staying in  the bay with water temperatures is still above 80 deg. and will be most of the summer.  The sardines are thick along with many other fish like mullet.   The  fish are biting all summer long.  When you have great temperatures, baitfish and super blue water hold on to your fishing rod. I'm sure fish will be biting for the month of August in Puerto Vallarta fishing charters.  Come down and enjoy these fantistis fishing conditions here in beautiful Mexico on one of our many  sports fishers or one of our big boats for the comfort and  we offer on all thrill of our deep sea fishing charters here in Puerto Vallarta.
Look forward to seeing everyone out there on the water and until nest report
Do not hesitate to use our services if you want to go fishing, from the tranquil inshore game to the thrilling big game fishing offshore.
Book our services here: Puerto Vallarta fishing Reservations
Also, check puertovallartas.com for Nayarit, La Cruz de Huanacaxtle, Punta de Mita and Sayulita fishing information.
Tight Lines
Capt. Pete and crews
Call toll-free 800 430 6048.
Email vallartafishing@hotmail.com