Puerto Vallarta fishing report December. The fishing in November has been incredible and great steady fishing here in Puerto Vallarta Mexico. The inshore action and offshore has been some of the best fishing in many years. There have been many Marlin, sailfish, mahi -mahi and tuna caught on these fishing trips.The inshore fishing has been fantastic catching lot of the skipjack tuna, mahi-mahi, and some sailfish right here inside our beautiful bay. The largest in Mexico.  The best bet for these inshore fishing trips here in Puerto Vallarta have been 6 hours .  
The fishing over on the Southside around Los Arcos and then heading out west towards Yelapa have produced many of the Mahi-Mahi and even some big sailfish. The skipjack tuna, Bonitas, and Spanish mackerel have been holding on the north side of the bay and really good numbers. Once again these Puerto Vallarta fishing trips inside the bay are usually the six hours. These inshore fishing trips are perfect for families and of course people that don't want to spend all day on a fishing boat. The normal trip starts at around 7 or 7:30 in the morning and continues on up until 1 p.m. or 2 p.m. in the afternoon. The action has been hot and all trips I've been very successful.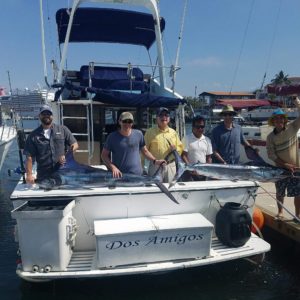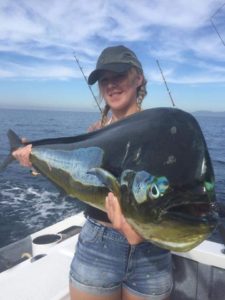 The offshore fishing trips have been best with 8 and 10 hour trips fishing here in Puerto Vallarta. The best bet has been 10 hours and most of these trips have been out to the rock also known as the Corbetena. The Marlin have been holding strong around the close by  and there are many baits there for the taking for these large fish. The larger mahi-mahi and sailfish or around the same area. Best fishing technique has been catching the large 5 to 10 lb. baits live baiting for them or fishing with our kites. The kite fishing has produced a lot of tuna all the way up to 250 lb. The downriggers with the large baits have been great for the big marlin as well. As you can see the offshore fishing and inshore fishing here in Puerto Vallarta is great and will continue to hold strong through December. On another side note to Humpback whales are showing up in good numbers and we'll be doing whale watching tours on some of our trips soon. This is great news for the fishing clients that we take out. On the way out and on the way back will have incredible opportunities to see the 20-ton 40 foot incredible mammals playing here in our Waters. If you have any questions about please give us a call. 800 430 6048 
We're here to help you and give you advice on what's best for your fishing needs and family or friends.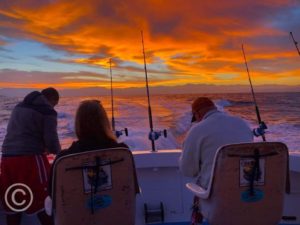 Come out with the pros and see the difference in fishing Puerto Vallarta charters.
Merry Fishmas
Captain Pete and crews