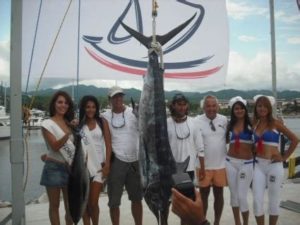 Fishing could not be any better. The latest Puerto Vallarta fishing report November 2018. If you ask a hundred deep-sea fisherman here in Puerto Vallarta what is the best month to fish all would answer November. The beginning November the rainy season has stopped. The whales will be showing up soon here in Puerto Vallarta Bay. And of course the fishing cannot be beat. We have Marlin coming in god numbers. The sailfish are here and are showing up incredible numbers. The mahi-mahi fishing is off the charters. You want more you say please read about the hot bay fishing in Puerto Vallarta below.
Tournaments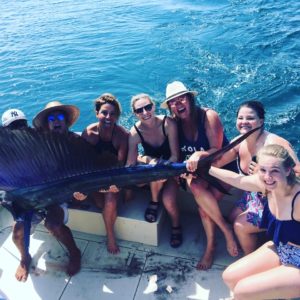 There are also several tournaments starting in November. The first one is in the middle of the month November 9 th. and 10 th.  for huge mahi- mahi here in Puerto Vallarta fishing. The second international fishing tournament is the 14th to 17 th. and there will be a lot of great prices cars cash boat. The fishing is incredible during this time of the year so be sure and plan to book ahead at least two weeks in advance to get a good boat with our company Puerto Vallarta fishing charters.
Inshore fishing
If you're looking for Bay fishing there's going to be a lot of Spanish mackerel and of course we catch sailfish, mahi-mahi sometimes in the bay depending on the water conditions. The water has dropped a few degrees in most of the spots. The Bay water is a little bit cooler and that's why we're seeing some of the rooster fish and mahi-mahi show up in the bay. Over the last couple of weeks we've had some incredible fishing and the water. The Puerto Vallarta water temperature is around 82 deg. On some days we had to use our satellite service Terrafin to find the blue water. This is a satellite service that we pay an annual fee for and it will give us a daily picture on where we can find the temperature the current brakes and of course the blue water.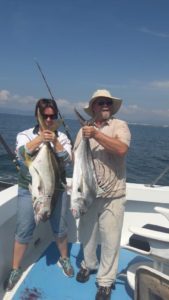 If we can help in any way on any tours .fishing whale watching or any advice please feel free to call or toll free number +1-800-430-6048.
Tight lines
Check our Trip Advisor Profile
Check other reports here.
For info on Nuevo Vallarta fishing check puertovallartas.com
Contact us for any doubt you may have about.
You can book your fishing trip here.
Captain Pete here in Puerto Vallarta where the friendliest people in the world live