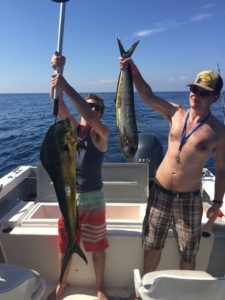 The fishing In Puerto Vallarta is at it's best. The weather, temperature and fishing bite are almost perfect. I always like to start with the Puerto Vallarta bay fishing as this time of the year we always have lot of families that like short trips as many people have young kids. If the kids are less than 10 years old we recommend 6 hrs. or less for bay trips. Of course some kids can fish all day depending on the ages. Even though there are lot of huge mantas, sea turtles, dolphin and humpback whales to see along the way out and back. The kids love it but then again who doesn't??
The bay fishing trips are resulting in snapper, Spanish mackerel, bonita, mahi mahi and even a couple of sailfish on the last couple of trips. The seas have been flat making for a smooth ride for all. The best bet is book your trip along with the tides to give you a better chance of hook ups. The is still plenty of bait in the Bay so be sure you have live bait to take on all trips.
The offshore trips are landing some nice marlin,sailfish and mahi mahi.   A couple of the best spots we fish El Morro and Corbetena have been the best this month. There have been several nice marlin caught on some 8 hrs trips but 10 hrs has been the best bet for catching the huge fish. The are black marlin , blue marlin and of course stripped marlin. The first 2 marlin species have been hitting
Fast speed lures and our old favorite live bait. The latter has been on lures , pitch baits , and the slow troll with 2 to 4 lb baits. The tuna are still hanging around Rock, El Morro and of course El Banco.
The very best fishing has been at the islands Maries. These are 2.5 day trips where you can catch marlin, sailfish, tuna and the bigger marlin.
Send me a message for the details about these fanstic trip for all kinds of great fishing at vallartafishing@hotmail.com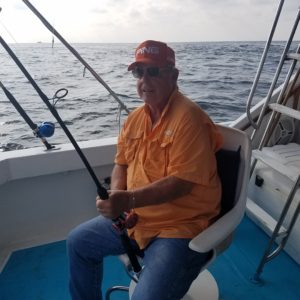 The Year is about to take off and the great fishing is just starting up for us here in Puerto Vallarta fishing charters. We will see ya here in Puerto Vallarta.
Merry Fishmas from
Capt. Pete and crews
Puerto Vallarta Mexico
Toll free 800 430 6048
https://travelvallarta.com
Puerto Vallarta fishing report summer 2017
Summer time is here and the fishing is heating up in Puerto Vallarta Mexico.


During the months of June through October we have some of the best fishing in the world. In the month of June, usually around the 15th of the month, we get rains every day about 6 to 7 pm in the evening. This is a good thing as it cools everything off and creates super fishing in and outside the bay.  ON some days the bay fishing is better in the bay versus offshore fishing.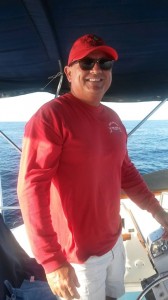 Summer time fishing in the bay can produce a lot of action with bonita,yellowtail,tuna,mahi mahi and even sailfish. This is because the water temperature reaches about 80 deg. And stays there until the winter months roll around. There will usually be a trash line that is created from all the stuff that come out of the rivers here in Puerto Vallarta and surrounding areas. We have 5 rivers that feed into the bay here. Early morning fishing on this trash line can put ya on mahi mahi and selfish almost everyday. Be sure and have lots of live bait. Trolling with lures and sewn baits such as mullets work great as well. These bay trips are great for the families or someone looking to catch a trophy fish.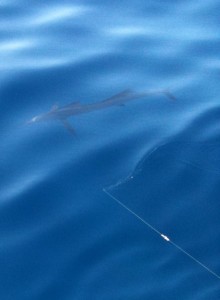 For those who are serious about catching the big one such as marlin and tuna summer is the best time be fishing the outside of the bay. With the water temperature around 80 deg. There are schools of bonitos everywhere and the marlin and tuna follow them here to Puerto Vallarta. Just out past the Maritas,Corbetena and El Banco are just a few of the places we fish for the big ones. Plan on a 10 to 12 hr day for the marlin and tuna trips. As you can see summer time fishing in Puerto Vallarta can not be beat so come on down and wet and line and have a cold one.
La Cruz fishing  tournament October 14 to 18 th  2017for marlin, sailfish, dorados and tuna, lot of prizes and money.  Send us an e mail if interested in fishing La Cruz fishing tournament.
Tight lines
Capt. Pete