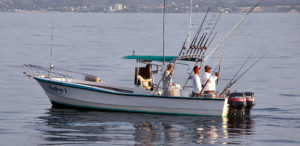 February fishing Puerto Vallarta Mexico. What to expect? How long should we go? What size boat will we take? What will we catch? Just a couple of the questions I get everyday when answering calls and e mails about fishing here in Puerto Vallarta. We need to know first how many people will be in your group so I can put you and your group on the proper size vessel. We offer 28 ft. super pangas.
Some guidelines if you have kids
I also like to know if there will be young kids on the trip. If the kids are really young your trip should be accordingly 4 hours to 6 hours. Remember the kids of course want to go all day and stay out longer but are not used to being on the water that amount of time. These boats are great for families or small groups of four people. Most of these trips will be in the bay but can venture offshore as well when we have smooth seas which is most of the time.
The next size boats we offer are from 32 to 36 ft. and can of course go offshore and take 6 people max.
Several options
The major difference is this boat has more shade and can run a a few more lines. Best choice for families and serious fishermen. Fantastic for offshore fishing and inshore fishing for just about anything you might want to catch while here on vacation. Snorkeling, whale watching and sight seeing is also offered on our boats here in Puerto Vallarta.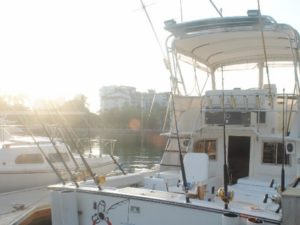 Large groups
For larger groups and the serious fishermen we recommend one of our 40 ft. boats that can handle your group in total comfort and catch anything out there. These boats run 10 lines and serval teasers at the same time for raising marlin, sailfish, tuna, and mahi – mahi that are usually found offshore in the month of February . Like this month the stripped marlin action is hot just offshore for these pelagic fish. Most of these trips range from 8 hrs. to 12 hrs. depending on which fish we will be targeting the day you and your group fishes with us. One of the easiest way to find out about the current conditions is a simple toll free phone call ( 800 4306048 ) from the U.S. or Canada.
E mails are great for getting general info about fishing here but there's nothing like speaking with the owner or one of our top notch Captains. The average years working offshore fishing these Mexican waters is 30 year min. What I'm saying is these guys can fish and know what they are doing. More importantly they know where to find the fish and can answer any of your questions in perfect English.
Set your goals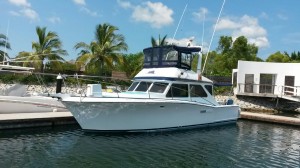 The second question I get everyday is how long should we go for. This depends on what you would like to fish for. Will you be wanting to catch marlin, sailfish, tuna, dorados? In the winter months most of these fish are roaming offshore and 4 to 6 hrs. is just not enough time to get out there and back in such a short time. We recommend 8 hrs. plus for these kind of fishing trips. This does not mean you can't catch these fish in the bay or on shorter trips it's just your chances go way up offshore and more time on the water. As I stated earlier best way to find out where the fish are running and biting is contacting us via e mail or a phone call. The summer fishing is totally different from the winter fishing and these pelagic fish are in the bay more  often. We also have on the website a fishing calendar that can help most folks decide what they would like to catch.
Do your homework
What to expect on a fishing charter is a good question. If you have done your homework there should be no surprises. You should already know what has been biting the last few days and have a good idea where you will be fishing. The amount of time on the water and of course which size boat best fits you/family needs and budget. If you come out and fish with us on any of our vessels you can expect to have a safe fun filled day catch some amazing fish along with seeing the spectacular sights Puerto Vallarta has to offer. Come on down and see what February fishing is all about but don't forget to check with us on the latest Puerto Vallarta fishing report and correct conditions.
For info on Nuevo Vallarta fishing check puertovallartas.com
Contact us for any doubt you may have about.
You can book your fishing trip here.
Tight Lines
Capt. Pete
tel: 800 4306048  toll free
local off: 322 22 10920 while in Puerto Vallarta, Nuevo Vallarta, La Cruz or Punta Mita
cel : 3222946240  my personal cel. here in Mexico