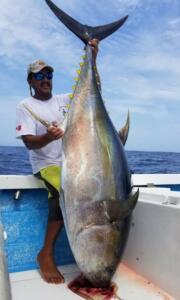 Puerto Vallarta fishing charters in July 2019. Before I get started with the July fishing report here in Puerto Vallarta I want to address the question of the weather. I get hundreds and hundreds of calls each month asking about what the weather is going to be in the summer months here in Puerto Vallarta. We are in rainy season during June to October so yes it's going to rain. Here in the tropics we normally experience rains late afternoon or early evening and during the days the skies are sunny for fishing. Along with getting the boats ready for our charters in the morning we are also constantly watching the weather conditions in Puerto Vallarta Mexico. We've been in business here for over 35 years and have never had an accident or any weather related problems. We appreciate everyone calling and your calls are welcomed. I just want you know we'll be keeping an eye on the weather for you for the summer months for any boating activities you might be doing here while on vacation in one of the most beautiful spots in the world.
Offshore Fishing
July fishing I started off hot here in Puerto Vallarta. Offshore action is smoking hot. We're seeing some nice Marlin along with some big cow tuna. Summertime is when the bigger Dorado start showing up offshore. You remember from one of our last report we're starting to see the trash lines that are created by the light rains we have in the evenings. We can work these lines with live bait catching Dorado and often along with the sailfish that feed on this trash line where two different water temperatures coming together and then blue and off colored Blue Water.
Inshore Fishing
The Bay fishing here in Puerto Vallarta has been really fantistic for the month of July. Starting to see all kinds of small game feeding on those sardines that have been showing up with this warm weather and warm water. There's been some of the roosterfish over on the Southside. I put this in our last fishing report for June that we would be seeing them. The conditions here in July or the inshore fishing have gotten better. We are already starting to see a lots of families wanting to fish and this is perfect for the Bay. We've also had a couple of good days fishing for bottom fishing for snapper and other good eating bottom fish. We've seen a few amberjack on the inshore and offshore trips those are always good eating and super fun to catch. The weather conditions remain the same winds and seas have been pretty much flat. In the afternoon we have been seen a little more wind but with flat seas. Water temperature here in Puerto Vallarta fishing still holding right around 80° which is perfect for the pelagic fish fat we love catching here in Mexico.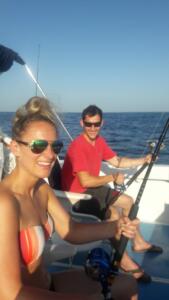 So if you're looking for some fun, fishing ,snorkeling are just cruising the bay give us a call on our toll-free number 800 430 6048 or shoot us an email vallartafishing@hotmail.com. We'll get you out and your family for a fun day.
Capt. Pete and crews
see what other fishermen had to say about our deep sea fishing charters in Puerto Vallarta.
https://www.tripadvisor.com/Attraction_Review-g150793-d2294229-Reviews-Puerto_Vallarta_Fishing_Capt_Pete-Puerto_Vallarta.html
Check other reports here.
For info on Nuevo Vallarta fishing check puertovallartas.com
Contact us for any doubt you may have about.
You can book your fishing trip here.