Puerto Vallarta is made up of several incredible fishing spots and several different bodies of water. There are seven rivers that flow into our beautiful bay. River, bay fishing, and one of the best oceans to fish in means only one thing. Fantastic fishing all year round. If you are planning a summer vacation to Puerto Vallarta make sure you take a day to enjoy some of the best fishing in Mexico.
Bay fishing Puerto Vallarta summertime
The bay fishing in Puerto Vallarta offers several different fishing opportunities. There are live baiting, jigging, trolling, bottom fishing, and great places to fish from the beach. This last month the south side of the bay has been in competition with the north side of the bay. Both of these fishing spots have been producing good fish. The fishing numbers have been about the same. The best is still yet to be determined.
The best bay fishing has been for yellowtail,bonitos, snapper, roosterfish. The bay has just been full of them. The surprising thing about fishing here in the bay is the sailfish and some marlin have moved into the bay. Seems like every day one of the boats is reporting a sailfish or marlin. The hot bay action is usually done in 4 to 6 hrs. There are ample opportunities for a beach stop or snorkeling on these bay trips. If you have had the itch to get offshore and fish Puerto Vallarta in the summertime. Then please keep reading below about the action we had in July and upcoming fishing action in August.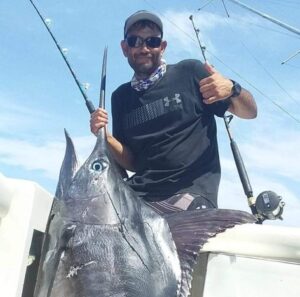 Offshore fishing Puerto Vallarta
When coming to Puerto Vallarta to try your hand at some offshore fishing be ready for some thrilling action.
We offer several trips for offshore fishing from several locations. The best are naturally Puerto Vallarta, Nuevo Vallarta, La Cruz, Bucerias, and Punta Mita. There are several people that we take for Sayulita as well which is just a hop, skip and jump away. This coming August you can expect to see sailfish, marlin and mahi-mahi in good numbers offshore. This last month we did well fishing offshore but are sure the big fish will be here for the summer. The last month we have many clients looking for deep sea fishing here in Puerto Vallarta. The vast majority of these sportfishing trips are 8 to 14 hrs. Be sure and ask about our super combo fishing package for large pelagic fish. The water temperatures are up in most places offshore but holding around 80 to 85 deg. This makes for some very interesting fishing adventures.  We have been offering fishing charters for over 35 years at the best prices.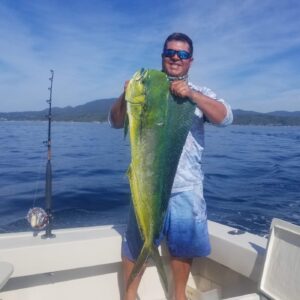 One of our most exciting fishing trips is overnight. With highly experienced fishing captains, you are all but guaranteed to catch some huge yellowfin tuna and other trophy fish. The overnight trip catch sailfish, tuna, marlin, and many other trophy fish. So many of our repeat clients book these types of charters just for the fact they always come home with some great fish and unforgettable fishing stories.
With Puerto Vallarta being one of the most traveled to cities for the US and Canada, be sure and book early to ensure you get the day you want to fish. We can take for 2 people to 200 so please let us help with your next summer fishing adventure. Please check out our latest reviews about fishing Puerto Vallarta.
Look forward to seeing everyone out on the water here in beautiful Puerto Vallarta where the friendliest people in the world live
Capt. Pete and crews