Puerto Vallarta fishing report Christmas and New Year 2018. Want to wish everyone a Merry Christmas and certainly a very Happy New Year 2019. Just wanted to take the time to thank each and every one of our clients that went out with this year. We really appreciate the business and we certainly hope to see you back here in Puerto Vallarta where the friendliest people in the world live for the fishing season in 2019.
Sunrise Puerto Vallarta fishing report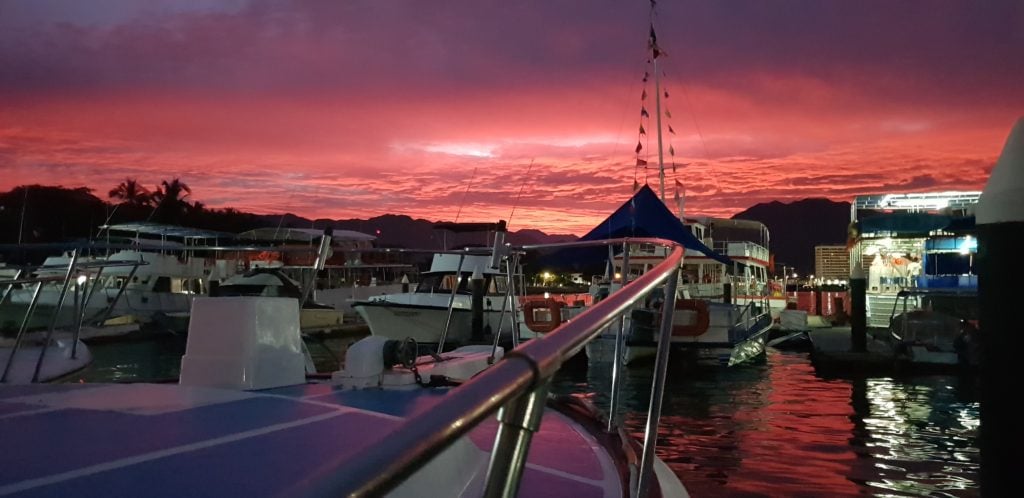 Offshore Fishing
The Puerto Vallarta fishing season 2019 will be one of our best years ever and the fish have been really biting here inside the bay and some of the other great locations like El Banco, Corbetena, El Farro and of course El Morro. The sailfish have decided to stick around here for the Christmas season and will do so in January as well. The Dorado action is still holding strong offshore with some of the larger ones being caught outside the bay and here in the bay we're catching lot of Dorado, Spanish mackerel and some yellowtail. Some of the rooster fish are showing up here inside the bay over on the Southside.   The bay fishing in Puerto Vallarta remains off the charts.
Kiss a big fish in Puerto Vallarta
The tuna action is still hot out of the Corbetena for one of our offshore fishing trips that we offer here for 10 hours and sometimes a little bit more depending on the action. Along with catching is yellowfin tuna here in Puerto Vallarta there's a really good chance of some striped Marlin that are showing up in good numbers. There's still some blue marlin out there swimming the waters and we are catching one every other trip. The offshore action is really looking good for here at the end of the Christmas season and the beginning of the new year 2019. The New Year 2019 here in Puerto Vallarta where the friendliest people in the world live will continue to have great Bay fishing and incredible offshore fish. The water temperature is still  around 78 o t79 degrees in most of the places that we fish year in and year out. We've been checking our terrfin charts every day looking and  are  looking for chlorophyll brakes and where the warmer and cooler water meet. This is been generating some really great action for our Anglers. Remember we offer fishing trips for two people up to 200 so if you're just a single or a large group give us a call at one of our toll-free number.
Big time Dorado Jump in Puerto Vallarta fishing report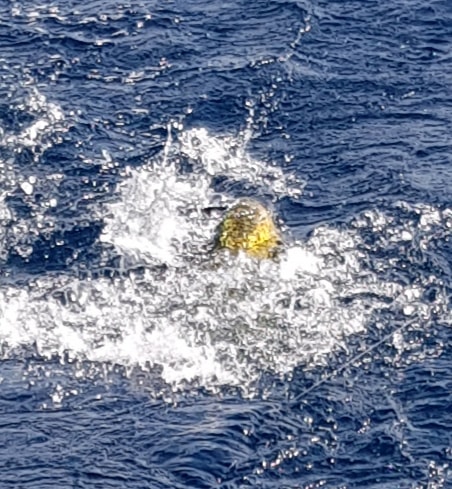 Inshore Fishing
During our Christmas season now the whales have decided to show up here inside the bay which is great when we're going offshore and then coming back you're going to have a great opportunity to see him almost everyday. We do also offer whale watching trips which can be done using around 6 hours and your chances of seeing the whales are 100%. We offer 100% money back guarantee on all of these trips.
Whale watching Puerto Vallarta
Come down right now and enjoy some of this unbelievable deep sea fishing Puerto Vallarta action we have the perfect weather around 72 degrees, we have the hot sailfish action, we have mahi-mahi almost on every trip and of course the whales playing here inside her Bay. Give us a call in our toll-free number or shoot us an email. No, paragraph Merry Christmas have to see you're on the water soon
Captain Pete and Crews.
Check other reports here.
For info on Nuevo Vallarta fishing check puertovallartas.com
Contact us for any doubt you may have about.
You can book your fishing trip here.