Puerto Vallarta fishing charter report for May action. The deep sea fishing and weather are getting hotter. There are some great events that we always have here in May . The Mexican Mother's Day, one of our San Blas international fishing tournaments and unbelievable fishing. This is brought on by warm gentle water moving in an onslaught baitfish in the Puerto Vallarta area.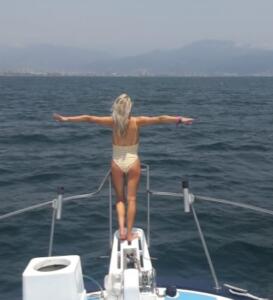 When the bay water heats up we start seeing real large numbers of Marlin coming in and around the day. This last week here in Puerto Vallarta fishing we have been locating good numbers of striped Marlin right here in the Bay area along with some sailfish. This means to the Bay of flags. With the water heating up and a large increase in bait activity will start seeing the black marlin and blue marlin showing up offshore very soon. In the nest couple of weeks we're happy to be seeing all the striped Marlin in the bay. When you see the huge bait balls on the surface the fishing is wide open here for almost anything you want to catch.
If you've been checking my fishing reports that I've been doing over the last 30 years here we look for several things one of them is the water clarity, the blue water the temperature, the tides , and last but not least where the bait is running. The fish are just like us they have to eat so if you can find where the bait is then you will always find a lot fish. Always a plus if you have good water temperature , blue water and lots of bait all at the same time.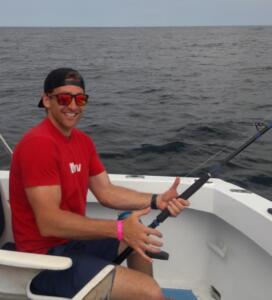 With this large amount of bait in the bay and in the outlaying areas we're seeing all kinds of fish. The big red snapper had moved in and her striking all kinds of lures , live bait, trolled bait and fresh cut bait fishing on the bottom with weights. You put it out there it they'll bite it. Most of the Puerto Vallarta charter boats are catching lots of the yellowtail , the mackerel, and the really great tasting California Bonita. Most of these Fish can be caught pulling rapalas and the small lures behind them like the deadly Clark spoons. Dragging baits and some of our high speed lures it's a no fail method of landing fish inside the bay and offshore places we like to fish in May.
You can sure the action is going to be incredible offshore with all this bait running in the area. There's still some large tuna's out there to be caught. blue marlin and some more dorado action and the fast sailfish action offshore. Punta Mita on the North side there's been some hot action ,good water temperatures and lots of bait movement.
There it is for the May fishing report here in Puerto Vallarta Mexico. If you have any questions or coming soon feel free to call me on my toll free number 1 804-302-6048 or email vallartafishing@hotmail.com
Tight lines
Captain Pete and the best crews in Mexico