Puerto Vallarta fishing report here for mid-January. The fishing report inshore here for Vallarta has been really steady and producing two weeks of incredible fishing action. There's been some days that the yellowtail have just literally lit up the water and you could troll,pitch any bait and catch the fish with ease. Close to shore there are still good numbers of Spanish mackerel which in my opinion is one of the best eating fish that we catch here in Puerto Vallarta. Over on the South Shore close there has been really good roosterfish action. The roosterfish is one of the most sought after game fish we fish for.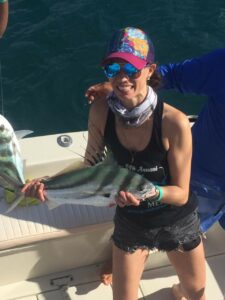 Forecast
Coming up in the next two weeks we can expect the action to hold great to improving right here on the inshore fishing. Fishing conditions will be about the same until we reach the month of March. March is the month when we start see bait balls for all kinds of bait moving into the bay. This will happen
when the water temperature moves down a few degrees.
Inshore Fishing
For the folks that are coming down wanting to catch good eating fish here in Puerto Vallarta we have a good fishing report for them. The mahi-mahi, Spanish mackerel, snapper and yellowtail have shown up and in really good numbers. These kind of fishing trips for the good eating fish can be done in six or eight hours. These fish have been biting mostly on live bait and some of the lures that we have rigged up for trolling. On the days that we've caught him schooling  and you could just about pitch any kind of bait live, dead, and lures to catch these fish at will. The inshore fishing rates can be seen on the website and are very reasonable.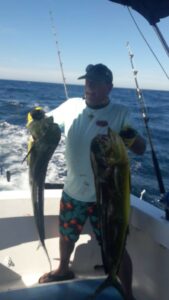 Offshore Fishing
The offshore fishing for January has been incredible. We are still having waters with temperatures above 80 degrees for many of our offshore fishing places. For the folks that know Puerto Vallarta fishing then we've been going to our usual spots the Marietas Islands, El Morro, La Corbetena and for the longer tuna trips El Banco. The best baits for these trips have been live bait once we are on the fishing grounds, high speed lures trolling on the way out and coming back, and of course pitch baits that we use for sight casting.
If you're looking for great offshore fishing action and the weather where you live in the winter season is cold then come down to beautiful Puerto Vallarta where the friendliest people in the world live.
I will help you set up any kind of fishing trip that you're looking for. We specialize in, bottom fishing, inshore, fishing fly fishing and deep sea fishing right here in Puerto Vallarta. Be sure and send us an email vallartafishing@hotmail.com or our toll free number 800 430 6048  before you come down to check the latest conditions and availability.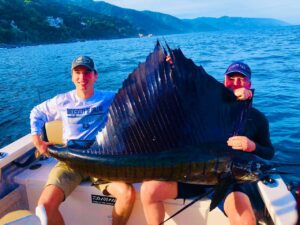 Tight lines and hope to see everyone out there on the water
Captain Pete and Crews