Puerto Vallarta fishing report July 2018. The water is warming up and so is the fishing.  The bay fishing is extreme and all of our boats are landing all kinds of incredible fish like mahi mahi, snapper, bonitos and even sailfish in the bay.  The light evening rains have really set the tremendous fishing frenzy into action.  The super pangas for small groups have been hitting all the fish.  We had one super panga catch and release one sailfish and over 30 other game fish today to start the July fishing season here in Puerto Vallarta. The light winds have been welcomed by all the families and other fisherman and fisher women as well.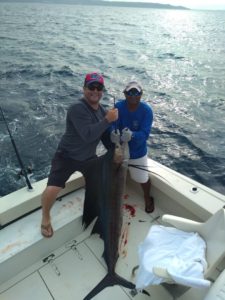 The medium size sport fisher has been catching fish offshore and in the bay.  Some days the bay fishing has been so good there was no reason to head offshore.  These boat run more lines then our super pangas and have also been catching sailfish, marlin, mahi mahi and all the small game you want to catch.  One of these Puerto vallarta sport fishers caught a sailfish and marlin today and what a happy group to be in.  What an incredible day of fishing.  This calls for a trip to Gray mounting company that helps us out here in Mexico and other resorts through out the beautiful beach destinations.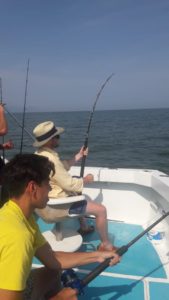 Our larger boats we operate are having a field day offshore and in the bay.  Most of the days we were fishing for the big one 20 to 30 mile offshore but can never turn down the unrealistic action the bay has been producing.  The tunas are out at the Corbetena and some at El Banco.   The marlin fishing has been off the charts just out past Punta Mita Nayarit.  This is very close to the Four Seasons hotel and the ST. Regis hotel here in Punta Mita which is a couple of the nicest 5 star resorts we have in the bay.  The sailfish are also thick just offshore with a few of our boats releasing over 8 sailfish a day along with some dorados.
The best dorado action has been up close to Lo de Marcos which is a good run for anyone of our boats but we want to catch the fish for our clients.  Fish with the pro here in Puerto Vallarta fishing and you will see a huge difference when going for these throphy fish.
Until next week hope to see everyone out on the water here in Puerto Vallarta Mexico.
Do not hesitate to use our services if you want to go fishing, from the tranquil inshore game to the thrilling big game fishing offshore.
Book our services here: Puerto Vallarta fishing Reservations
Also, check puertovallartas.com for Nayarit, La Cruz de Huanacaxtle, Punta de Mita and Sayulita fishing information.
Capt. Pete and crews