Puerto Vallarta fishing report May 2018 action with fly-fishing. The action has gotten better along with all the other conditions that make Puerto Vallarta on of the best spots to catch the throphy fish of your dreams. If you are looking for a family day fishing the bay,hard core day fishing for the big ones like marlin,tuna, sailfish and mahi mahi or fly fishing we have covered here in Puerto Vallarta fishing charters.
Both the bay fishing and offshore fishing have been incredible the last week. This week I'll be focusing on fly fishing in Puerto Vallarta and the sourounding areas like Punta Mita, La Cruz, Nuevo Vallarta, Sayulita, and Yelapa. In all the areas we have some of the best fishing for just about all the game fish but what you might not know we also offer some of the best fly fishing in Mexico. If you are looking to hook a marlin, sailfish or mahi mahi on a fly rod we are your go to company. We have gold Penn fly reels and Loomis fly rods, the best boats and the Captains that will put you on the fish.
Last week we had some fantistis fly fishing in Puerto Vallarta. Dr. Glenn hooked up a monster fish on his on fly gear from the States.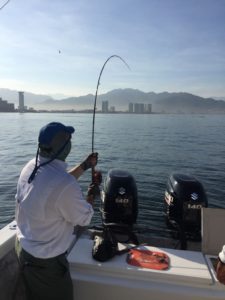 What a great fight on a fly rod. With some great angling and some great boat maneuvering from the Captain  Dr. Glenn landed this big fish here in Puerto Vallarta fly fishing. It's one thing to find these big fish but then another to get boat in position for angler to cast with fly rod and hook up.
This is what happen to his fly rod. Got the fish in but had to pay the price with broken fly rod.
If you are looking for a fishing trip offshore, in the bay with family or some incredible fly fishng we have ya covered.
The bay fishing is holding many fish for the conventional angler to the fly fisherman. Best bet has been 6 to 8 hrs. for these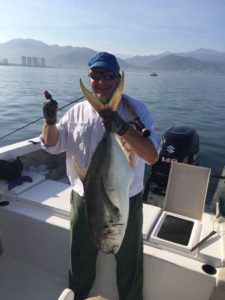 trips.
The offshore fishing was red hot with the stripped marlin and sailfish hanging around in good numbers. One of the best places was up north around San Pancho or Salulita, Nay. Just outside the bay here in beautiful Puerto Vallarta. Best bet was 8 to 10 hrs. and plan on catching a lot of fish. The mahi mahi are still here and will be showing up in good numbers as the water temp rises. Stay tuned for next week action or come down and join us on one of our fishing charters here in Puerto Vallarta Mexico. You will not be disappointed.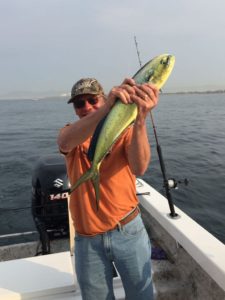 Do not hesitate to use our services if you want to go fishing, from the tranquil inshore game to the thrilling big game fishing offshore.
Book our services here: Puerto Vallarta fishing Reservations
Also, check puertovallartas.com for Nayarit, La Cruz de Huanacaxtle, Punta de Mita and Sayulita fishing information.
Fishful Thinking
Capt. Pete and crews

toll free from Cananda or U.S. 8004306048
off: 322 2210920
Cel: 322 2946240
E Mail : vallartafishing@hotmail.com
Facebook: https://www.facebook.com/PuertoVallartafishing.Capt.Pete/