Puerto Vallarta fishing report in May 2018 will see some of the best fishing of the year.  This last week we have seem improvements in the bait showing up and the number of fish we have been catching.  The fantastic news is the blue water is close by and the incredible amount of bait that is showing up in the Puerto Vallarta bay fishing will keep the fishing hot for quite a while.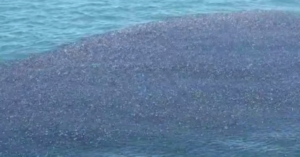 As you can see from this huge bait ball we found inside the bay of Puerto Vallarta the bait is here and the fish will be as well.  When you get this amount of bait in these waters of Mexico the fishing is out of this world.  The day we were on these bait balls there were snapper, sailfish, marlin and some nice sized dorados hanging around.   The pelagic fish love to feed off of the gigantic bait balls as they move very slowly and stay tightly packed together for protection.  The marlin
simply have to swim through them feeding at will.  We spot these huge bait balls sometimes from a mile away with the birds working on top of them.  What a sight to see and also helps us find the game fish we are looking to catch these days offshore.
The roosterfish, snapper, tuna, sailfish, marlin, and mahi – mahi also known as dorados hang around these bait balls.  The water temp. moved up a few degrees and is holding around 77 deg. And should be stable for the next month.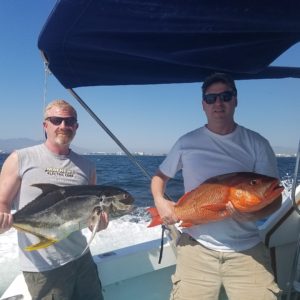 The bay fishing has been really hot this last week.  The yellowtail a.k.a.  jack crevalle are thick catching some days ten to twenty fish all around the 20 to 30 lbs range.  The Calofornia bonita are following the bait balls into the bay and are really fun fish to catch.  Average day for these great tasting fish is fifty a day are in the good range size.  These make for some great cerchive or on the grill after long day fishing here in Puerto Vallarta Mexico.
The offshore fishing is producing nice size dorados, sailfish and marlin.  The best bet has been to run up to Punta Mita catching the Calofornia bonita while watching the bait balls to see if there are snapper mixed in with them.  The stripped marlin love the black bart lure trolled around 8 knots as well as sailfish with condom rigs bait with lure on top of the bait.  Super hot right now.
Bay fishing is super for around 6 hrs. and the offshore fishing can't be beat 8 hrs. and maybe more.
Some come on down while this beautiful spring weather and fishing is so good right now.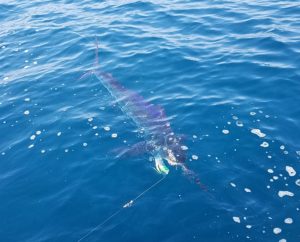 Tight Lines
Capt. Pete and crews
toll free number 800 4306048.
Off: 3222946240.
Cel: 3222946240
Facebook : https://www.facebook.com/PuertoVallartafishing.Capt.Pete/?ref=bookmarks