Here we are, with the latest Puerto Vallarta fishing report November 2017. Here in Puerto Vallarta from Captain Pete on the Dos Amigos we've been getting in some offshore fishing for the big tuna's and Marlin along with some dorados. Our clients also been fishing a lot of bay.
Inshore fishing
These fishing trips inside the bay which over the last few days of November has been incredible. The offshore action are seeing some of the huge Tunas up 250 lb out by the Corbetena which most folks her call the rock. Along with these big tunas there are some really large Marlin and huge dorados. Both Puerto Vallarta fishing trips have been fantistic with all around good fishing action.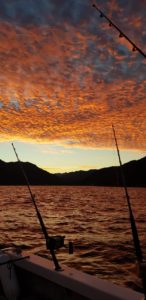 The inshore fishing inside the Bay has just been off the charts this last week catching a lot of Dorado, sailfish, and all other kinds of small game like roosterfish in Spanish mackerel. These trip are usually 4 to 6 hrs. Perfect for families here for Thanksgiving holidays. The weather is perfect and the fish are biting. Come down enjoy some of those incredible action here in November.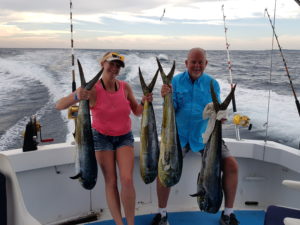 Last news
Captain Freddy one of our super stars is reporting from the Nuevo Vallarta some of the similar action that we're having here in Puerto vallarta fishing. The Nuevo Vallarta fishing is hot. The best catches have been sailfish and mahi mahi. The bay fish here is very strong and getting better. We had a couple of degree drop in water temperature and this turned the fishing on.
Capt. Pina fishing out by Punta Mita reported incredible action off the point in Puerta Mita all the way up to Salyulita. Sailfish, Marlin and fantastic mahi – mahi fishing. Seems like the fast fishing action never stopped on some days. The bay is loaded with fish from several different fishing locations. The south side produced some nice roosterfish this last week here in Puerto Vallarta fishing.
The international fishing tournament was a blast a couple of days ago. The last tournament was won by the Puerto Vallarta fishing team. This year another winner in Puerto Vallarta fishing.
Main targets
Puerto Vallarta fishing is in full swing. The sardines have arrived along with choras. This is great on so may levels. The sardines bring the mahi mahi , sailfish, stripped and other game fish close to our beautiful shores and bay. When the bait movement comes here and hangs out for long period of time this means only one thing. Great fishng in Puerto vallarta. The sailfish, mahi mahi aka dorados, and stripped marlin all have a water temperature that they like to swim in. Just like us when we take a bath. We all have a temperature we like the water to be. Will so do fish. This is one of the main reasons we are checking the water and pacific ocean water temps. These fish love to be in the perfect water temperature.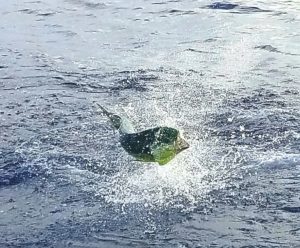 Big balls of bait
There's one factor that will keep fish in a location or move them to another location. Food yes food. Bait. No matter what the water temp is or the color of the water. If the bait is there ya have a great chance to land the big one that most folks are fishing for here in Puerto Vallarta. When we find the bait that these pelagic fish love we have hit a home run. We love these conditions are the fish are thick and there for the catching. I use terrafin for all of our boats. If it's one of our super pangas 28 ft., or med size sportfishers 32 ft. or one of the 40 ft sportfishers with everything included.
Big game fishing
The choras we caught today are a good sign that the big fish are here and coming to stay. The big tuna and marlin love to eat the 5 to 10 lbs choras. Bait for us that fish for these big guys. Ya must have a good boat that has tuna tubes are you are just wasting your time. If you can find the big baits and load up the tuna tubes your chances of catching a big marlin have increased ten fold. When the water temp start rising and the two favorites baits start showing up these means game on for fishing here in Puerto vallarta. The blue marlin and black marlin will be here and so will the best fishing in the world. Come down and try your hand of catching one of these trophy fish that run in these waters of the Pacific ocean and the are that surround Puerto vallarta.
This last week the bay fishing was hot for snapper, yellowtail, Spanish mackerel and other game fish. Best bet was 6 hrs in the bay on one of our super pangas for smaller groups or one of the larger boats for 4 or more people wanting to fish here in Puerto Vallarta.
Deep-sea Fishing
The offshore action has be incredible. The stripped marlin have been hanging around for the bait that I described above along with sailfish. These trips can be done in 8 hrs or maybe a little more time. It's best to call and speak with Capt. Peter Vines toll free to plan your fishing charter here in Puerto Vallarta before you come down to find the right boat and the best trip for you and family.
Check our Trip Advisor Profile
And our rates
Until next time Tight Lines
Capt. Pete and crews
Tel: 3222946240
Office: 3222210920
Toll free from U.S. and Canada 1 800 4306048