Puerto Vallarta fishing has seen some really good Improvement in September. The overall fishing here is in high gear. The water is still warm and the fishing is even hotter. The offshore action we are seeing some of the big cow Tunas as close as the Corberntena also know as the rock. The best bet for catching one of these big cow Tunas is with live chorras 5 to 10 lb baits. Also, this time of the year while fishing for the big Tunas you have the opportunity to hook into one of the blue marlin or black marlin that we have here in Puerto Vallarta fishing. Just as a side note for people out there that have not been fishing a lot for the big game fish a big marlin can see a dime from 50 meters away while swimming. So when they lock into a bait or lure they zip Right In For The Kill. Also along the way to some of our favorite spots like Marieta Islands, El Morro and the Corbetena we have been seen sailfish along the way. Sailfish like the smaller baits like mullet medium-sized black Bart lures. It's not a common fact that sailfish are color blind. Even though we have every color of lures every color of different skirts that we use for the base all billfish are color-blind most people do not know this.  One of the reasons most fishermen want to hook one of these incredible fish is they are the fastest swimming fish in the world.  How about 75 miles per hour.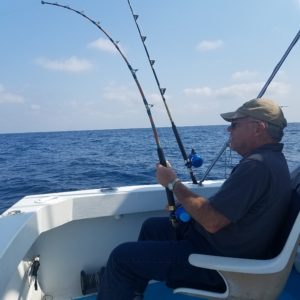 The Bay fishing is still been great there's roosterfish out there to be caught in good numbers. The Snapper down by the South Shore have been showing up and really good numbers for some bottom fishing. Best bait has been jigging live bait with sardines or some of the live goggle-eye. There have been a few mahi-mahis inside the bay. Most of these fish have been caught on the troll or around some floating objects that we still have from our rainy season that is ending very soon. The Northside Bay fishing here is still holding strong Spanish mackerel largest Bonitas and lots of barracudas have been caught.
The Puerto Vallarta fishing is incredible right now. This is a great time to come down and enjoy some of the best fishing we will have here in September. If you're looking for Puerto Vallarta fishing charters you came to the right place will put you on the fish and have a great day.
Tight lines
Capt. Pete